Service "Same Day Delivery" has covered more than 25 cities in Serbia. If you want your shipment to take over in Belgrade and be delivered in one of the following places, you just need to contact our call center on telephone number 011.331.33.33 in the period from 08 am to 12 am.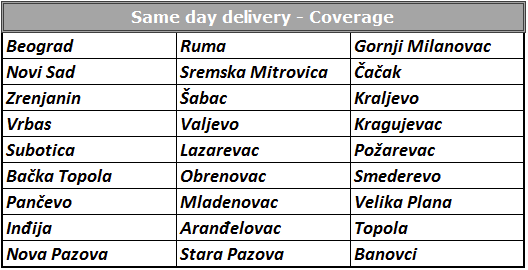 Notify to operator accurate information of the sender and the recipient, select the method of payment (cash or by bank account) and type of item you would like to send.
In the shortest period of your call, but no longer than 1 hour, courier will come to take your shipment and deliver it in the period from 16 pm to 21 pm.
Deliveries from Belgrade to Belgrade are performed within 3 hours from taking over an item.
With this service you can request a range of additional services:
Return of the signed deliveries
Items with paid reply
Send a text message to the sender after the delivery of the item
Personal delivery with signature – Return receipt
COD(Cash on delivery items)
Latest software equipment enables electronic tracking of your shipments at all stages of the transfer.